Welcome To BodyTeq Apparel, Inc.

BodyTeq Apparel, Inc., produces the most advanced line of personal cooling garments and accessories that help maintain core body temperature and guard against the damaging effects of heat stress and discomfort at work, recreation, and competetive sports.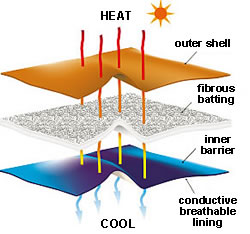 BodyTeq utilizes Hydroweave®, a new Performance Enhancing (PE) fabric representing the first real breakthrough in personal cooling material development and weaving technique that eliminates the trade off between protection and the wearer's comfort and productivity. Unlike fabrics that perform well in a given environment such as (cold, heat, and rain), this fabric actually enhances the performance of the WEARER.

Hydroweave® far exceeds conventional performance standards for personal cooling garments.

A highly versatile fabric, its lightweight construction and patented weaving technique makes it ideally suited for a variety of garment and accessory applications; either as an integral part of a garment, or as a component of a protective outfit.

Hydroweave® effectively and consistently provides protection against heat through evaporation while enhancing performance. BodyTeq products extend work hours and ensure increased levels of productivity with garments that are safe, well crafted, and do not use chemicals or liquids. Hydroweave's simple appearance belies its high-tech, patented construction, which effectively delivers long lasting cool while keeping the wearer dry.

We bring together decades of experience from some of the finest and most talented uniform and speciality apparel designers, to create and manufacture protective clothing that consistently perfoms in some of the most harsh and hazardous environments. You'll find BodyTeq products made with Hydroweave® in many applications ranging from workwear and industrial safety garments to sporting goods.

We have specifically designed this web site to be easy to use and navigate. If you have any questions or have a specific request, please contact us; we will respond promptly.

Thanks again for visiting BodyTeq and we look forward to working with you.



No current openings.


Internal Company News

The Scrabble Club will meet in the social area at 6:00 on the first Tuesday of the month. New members are welcome! If you would like some Scrabble help, or have ever wondered about the best two letter words with C, then join us for a sociable after-work get-together. We will be playing competitively, as well as teaching the game and giving word tips for beginners and advanced players. Contact Kim Larson via internal mail. See you there!